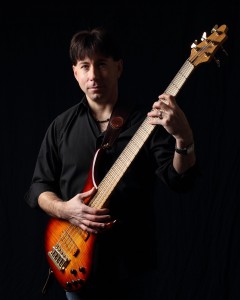 Brian Masek is a musician from the Sioux Falls area who's been active in the scene as a bass player, band leader and recording engineer since the late 80s. His background started with rock bands including Ivory, Closet Monster, Leghorn and the Toby Kane Band.
Over the past few years he's shifted his focus to all styles of jazz. His current group Brian Masek & Friends mixes the styles of jazz, rock, funk, fusion and blues to present music with an energetic feel but with freedom to improvise and reinterpret.
He's also enjoyed playing with other top local jazz groups like the South Dakota Jazz Orchestra, Chris Champion, and at one time or another nearly all of the musicians currently in the local jazz scene.
He's produced and written songs for award-winning CDs and has played with or shared the stage with notable artists such as Robert Cray, Jonny Lang, Indigenous, Daughtry, David Cook, Sugarland, Alice Cooper, Cowboy Mouth, Mike Miller, Steve Weingart and many others.
Electric Christmas V3
My Favorite Things – Brian Masek
[jwplayer mediaid="513″]
Get Your Electric Christmas V3 Now $10
Electric Christmas Volume 2
Sleigh Ride – Brian Masek
[jwplayer mediaid="483″]
Get Your Electric Christmas V2 $10